MONIER
Monier Roofing Series
Globally, Woh Sang Hardware are part of the Monier Group, the world's leading provider of building materials for pitched roofs, roofing components, chimney and ventilation systems.

Core solutions :
Roof systems
Energy efficient roof systems
Roof system components
Roofing services
Truss systems
Product and Services: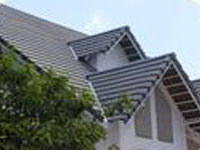 MONIER Roofing System
MONIER Complete Roof System consists of tiles, fittings and components, which are designed for a variety of roof finishing details. With an integrative complete roof system, MONIER Roof System provides a start to finish process, which is convenient for consultants, contractors as well as homeowners. Details in design and processes have been meticulously planned by MONIER to ensure efficient installation, maximum performance and easy maintenance. Moreover, its comprehensive range of fittings and components made it possible to achieve a high standard of roof finishing.
Roofing System Components
Homeowners today want their roofs to be both functional and of high aesthetic value. With innovation through countless research on roof performance characteristics and failure points, MONIER has developed a collection of Roof System Components that, when installed properly, enhanced the roof solutions. MONIER Roof System Components exceeds the Malaysian and International standards, developed to provide hassle free installation, superior protection from leakages and high aesthetical secured finishing. We assure you, at MONIER, we provide only the best for the comfort of your home.
Fixing
Metall Roll
Wakaflex
Sofi Top
DuroVent
Solar
Roofing Services
Our authorised installers have been trained at our Roof School and are supervised by experienced site supervisors. Furthermore, they are backed by our engineers and Technical Sales Support team to ensure that your roof is perfectly installed.
Truss System
MONIER is one of the very few suppliers that offer you both metal and timber trusses. We offer maximum flexibility and reliability with our truss systems which are also strongly supported by a team of creative designers and consultants, qualified engineers and technical support. We believe that reliability, safety and quality are more important considerations than just short-term savings on dollars and cents. Therefore, we provide high quality structures and technical support as well.
There are no products to list in this category.