Terreal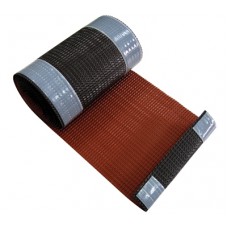 Brand:
Terreal
Product Code:
DRY FLASH™
Availability:
In Stock
INTRODUCTION & PRODUCT SPECIFICATIONS
Terreal Dry Flash™ is a perfect solution for abutment providing better and neat finishing. Terreal Dry Flash™ is an aluminium product with highest degree of flexibility, thanks to continuous corrugation and multiple pre-fabricated bending lines.

Terreal Flash Strip is made of clean colourbond zincalume

Terreal Flash Strip is installed over the top edge of Dry Flash. This is to further secure the Dry Flash to the wall in case of paint peeling in the future.

Advantages
Full Aluminium product
• highly durable and weather resistant

Pre-determined bending lines
• easy to bend at wall

High quality colour coating
• durable UV-resistance
• high material break resistance
• self cleaning properties

Butyl adhesive strips
• additional security against rain

Continuous corrugation
• stretch factor of 30%
• perfect mouldability on tile surface

TERREAL FLASH STRIP
APPLICATION
STEP 1
Cut the Dry Flash (Wall Width + 4cm) bend it at the pre-determined bending lines and press it against the wall. The bending line should be at the same spot as the contact line of the roof with the wall.
STEP 2
Bend the 2 part on both sides away from the wall. Remove the protective foil from the upper adhesive strip and fix the Dry Flash horizontal on the wall.
STEP 3
Remove the protective foil from the lower adhesive strip and form it on the tiles.
STEP 4
Determine the length of the side part (bottom egde of front side + lengths of the wall + 25cm) and bend it again at the precast lines. Remove protection foil and start pressing the Dry Flash from the lower part upwards to the top of the wall. Proceed with fixation on the tiles from bottom to top.
STEP 5
Cut off the side part so that 2cm can be bended down over the up-standing front-side.
STEP 6
Turn down carefully the overlap of the side-part over the front flap and press the standing seam against the wall.
STEP 7
Install Terreal Flash Strip over the top edge of Dry Flash and fasten the Strip with rust resistant screw or nail.
STEP 8
The upper seam must be sealed with sealing compound.
Write a review
Your Name:
Your Review:
Note: HTML is not translated!
Rating:
Bad
Good
Enter the code in the box below: