Terreal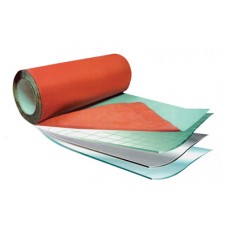 Brand:
Terreal
Product Code:
DRY FIX™
Availability:
In Stock
Terreal Dry Fix is a versatile, self adhesive tape, consisting of a 0.064mm reinforced aluminum foil backed with a 1.45mm weatherproof self adhesive compound which is protected by a silicone release film.

• Metal Protection Film
• Anti-tear Reinforcement
• Adhesive Compound
• Release Film


Advantages

Fast and easy application.
Adheres on most construction materials including clay, asphalt, brickwork, cement, marble, ceramics etc
Adheres to the substrate and to itself, eliminating the problem of wind lifting and wind driven water.
The metal surface received a special treatment allowing them to be easily painted to match other colours.
In case of little punching and nailing, the membrane's special compound immediately seals around nails and waterproofs silts and tears.
COLORS AVAILABLE
APPLICATION
The substructure has to be cleaned and dried before application.
STEP 1
Cut the tiles along the hip tree with a gap about 5mm
STEP 2
Choose a matching metal finishing colour and unroll the required length.
STEP 3
Remove the release film and place in position.
STEP 4
Press to the profile of the tiles and make sure all gaps are sealed.
STEP 5
Fix the hip tiles in place and nail to the hip tree. Make sure the membrane is not exposed and hidden under the hip tiles.
Write a review
Your Name:
Your Review:
Note: HTML is not translated!
Rating:
Bad
Good
Enter the code in the box below: